1901 - 1932
HISTORICAL TIMELINE
Walk with us, through the life of a legend
Life of Churchill
Rising Politician
Churchill was first elected to Parliament as a Conservative for the town of Oldham in 1900. He was only twenty-five, and Queen Victoria was still on the throne. He quickly made a name for himself as a rising politician, though he was controversial, and in 1904 he switched parties and joined the Liberals. His early career was a mix of radicalism and reaction. He helped introduce labour exchanges and early unemployment insurance, but he also opposed strikers and refused to support votes for women.
He held a succession of senior Government roles. When WWI broke out he was the Minister in charge of the Navy, but fell from office dramatically over his leadership of the disastrous Dardanelles campaign. A short spell commanding a battalion in the trenches was followed by a return to high office and, in 1924, by a return to the Conservative Party as Chancellor of the Exchequer. He was clearly talented but many mistrusted him.
This section will tell you more about his rise to prominence in politics and his ups and downs in office – the colourful and varied trajectory of his early political career.
1901 - 1932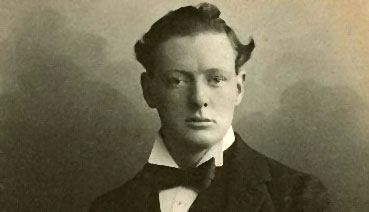 31 Jan 1901, Final lecture, Carnegie Hall in New York
14 Feb 1901
Takes his seat in the House for the first time
27 Sep 1902
First visit as a guest at Balmoral Castle
10 Oct 1902
Proposes a Tory-Liberal central coalition
20 Apr 1903
Publishes Mr Brodrick's Army
Mar 1904
Meets Clementine Hozier for the first time
31 May 1904
Breaks with the Conservative Party
2 Jan 1906
Publishes Lord Randolph Churchill
13 Jan 1906
Elected as MP for Manchester NW
2 Oct 1907
Begins official tour to British East Africa
22 Oct 1907
Clementine breaks her engagement
5 Apr 1908
Campbell-Bannerman resigns as Prime Minister
12 Apr 1908
Meets Clementine for the 2nd time
12 Apr 1908
Joins Cabinet as President of the Board of Trade
24 Apr 1908
Defeated in Manchester NW and seeks new seat
9 May 1908
Elected Member of Parliament for Dundee
12 Sep 1908
Winston and Clementine marry at St Mary's Churchill in London
Dec 1908
Publishes My African Journey
11 Jul 1909
Birth of first child, Diana
12 Sep 1909
Kaiser Wilhelm II's guest at German Army manoeuvres
Dec 1909
Publishes The People's Rights
8 Nov 1910
Tonypandy riots begin in Wales
29 May 1911
Birth of only son, Randolph
13 Aug 1911
Churchill's cabinet paper predicts WW1
25 Oct 1911
Appointed First Lord of the Admiralty
21 May 1914
Argues for compromise on Irish Home Rule
17 Jun 1914
Persian oil supply secured for Royal Navy.
28 Jun 1914
Archduke Franz Ferdinand is assassinated at Sarajevo
1 Aug 1914
British fleet ordered to its war station at Scapa Flow
4 Aug 1914
Great Britain declares war on Germany
4-5 Sep 1914
Britain, France and Russia sign Treaty of London
3-6 Oct 1914
Leads the defence of Antwerp
7 Oct 1914
Birth of the Churchill's second daughter, Sarah
30 Oct 1914
Appoints Admiral Lord Fisher as First Sea Lord
2 Nov 1914
Russia declares war on Turkey
8 Dec 1914
Royal Navy victorious in the Battle of the Falkland Islands
3 Jan 1915
Proposes naval and military attack on the Dardanelles
15 May 1915
Lord Fisher abruptly resigns as First Sea Lord
27 May 1915
Appointed Chancellor of the Duchy of Lancaster
19 Nov 1915
Attached to 2nd Battalion, Grenadier Guards in France
7 May 1916
Returns to London and Parliament
6 Dec 1916
David Lloyd George becomes PM
6 Apr 1916
United States enters World War I
9-12 Apr 1917
Canadian triumph at Vimy Ridge
18 Jul 1917
Appointed Minister of Munitions by PM David Lloyd George
30 Jul 1917
Wins by-election at Dundee
2 Nov 1917
Balfour Declaration announcing support for the establishment of a 'national home for the Jewish people' in Palestine
1 Apr 1918
Royal Air Force (RAF) Created
11 Nov 1918
Armistice Day ends World War I
15 Nov 1918
Birth of third daughter, Marigold
9 Jan 1919
Appointed Secretary of State for War and Air
29 Jun 1919
Versailles Peace Treaty signed
16 Jan 1920
League of Nations convenes in Geneva, Switzerland
14 Feb 1921
Appointed Colonial Secretary
15 Apr 1921
Bill Hozier, Clementine's brother, commits suicide
29 June 1921
Lady Randolph Churchill dies
23 Aug 1921
Marigold Churchill dies of septicemia
6 Dec 1921, Helps negotiate the Irish Treaty
3 Jun 1922
Government issues White Paper on Palestine
14 Sep 1922
Successfully offers to buy Chartwell in the Kent countryside
Chartwell
15 Sep 1922
Birth of fourth daughter, Mary
19 Oct 1922
PM David Lloyd George resigns
7 Dec 1922
Parliament of Northern Ireland votes to remain part of the UK
6 Apr 1923
Publishes The World Crisis, Vol. I
26 Apr 1923
Wedding of the Duke of York and Lady Elizabeth Bowes-Lyon
23 May 1923
Stanley Baldwin becomes Prime Minister
6 Dec 1923
Defeated in the West Leicester by-election
24 Jan 1924
First Woman to be Appointed Government Minister
19 Mar 1924
Defeated in the Abbey Division of Westminster by-election
23 Apr 1924
1st Broadcast by King George V, opening the British Empire Exhibition
29 Oct 1924
Elected as a 'Constitutionalist' member for Epping
29 Apr 1925
First budget and return to Gold Standard
19 Jul 1925
Adolf Hitler Publishes Mein Kampf
Oct 1925
Officially rejoins Conservative Party
1 Dec 1925
Germany joins the League of Nations
2 May 1926
General Strike begins (ends eleven days later on 13 May)
2 Mar 1927
Publishes The World Crisis, Vol. III
Spring 1927
Begins bricklaying at Chartwell
22-23 Sep 1928
Joins Amalgamated Union of Building Trade Workers
29 Jan 1929
All Quiet on the Western Front by Erich Maria Remarque, a German veteran of World War I is published
11 Feb 1929
Lateran Treaty signed establishing Vatican City
4 Mar 1929
Herbert Hoover inaugurated as the 31st US President
30 May 1929
Baldwin government defeated
4 Jun 1929
Resigns as Chancellor of the Exchequer (equivalent to Minister of Treasury)
Jun 1929
Beginning of his so-called 'Wilderness Years'
27 Jul 1929
The Geneva Convention Addresses the Treatment of POWs
3 Aug 1929
Embarks for North America
9 Aug 1929, Arrives in Canada
Sep 1929
A Farewell to Arms, a novel by American writer Ernest Hemingway is first published
13 Sep 1929
Hosted by William Randolph Hearst
29 Oct 1929
New York Stock Market crash
18 Apr 1930
BBC Radio from London reports on this day that 'There is no news'
7 Aug 1930
R B Bennett takes office as the eleventh Prime Minister of Canada
16 Aug 1930
The first British Empire Games open in Hamilton, Ontario
1 May 1931
Construction completed for Empire State Building
10 Sep 1931
The Japanese invasion of Manchuria
22 Sep 1931
The UK abandons the Gold Standard
Nov 1931
Publishes The Eastern Front
1932
Film version of A Farewell to Arms opens
29 Jan 1932
Conflict between Japan and China in the Battle of Shanghai
28 Jan 1932
Lecture tour resumes in Brooklyn, New York
4 Feb 1932
The 1932 Winter Olympics open in Lake Placid, New York
Feb-Mar 1932
Lectures in many cities across the US and Canada
13 May 1932
First speech warning of German rearmament
8 Nov 1932
Franklin Roosevelt elected president
10 Nov 1932
Publishes Thoughts and Adventures
Subscribe
WANT MORE?
Get the Churchill Bulletin delivered to your inbox once a month.